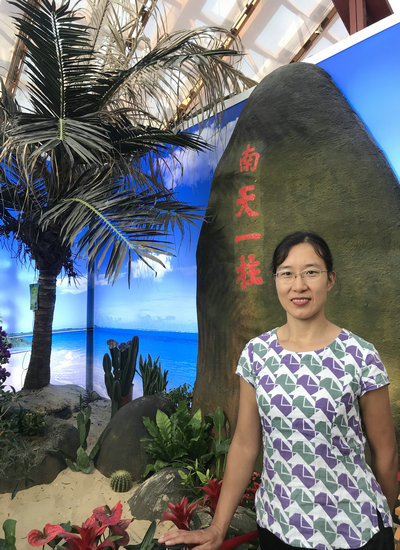 主要从事苜蓿等饲草作物功能基因组学研究,包括生物量和品质相关性状关键基因的克隆和功能解析以及分子辅助设计育种。迄今以第一作者或通讯作者(含共同)分别在PNAS、PLoS Genet、EMBO Report、Plant J、Plant Physiol、Plant Cell Environ、J Integr Plant Biol、J Exp Bot和Plant Cell Rep等国际主流学术期刊上发表多篇SCI论文;荣获国家人力资源和社会保障部"2014年度海外高层次留学人才回国资助",2015年北京市科学技术奖(二等奖)等奖励;2015年入选中国农业科学院"青年英才计划"A类;现主持国家自然科学基金、转基因生物新品种培育任务等项目。

主要履历及经历:
2013年12月至今 中国农业科学院生物技术研究所,研究员、博士生导师;
2010年10月至2013年8月 美国俄克拉荷马州立大学,博士后;
2010年3月至2010年10月 美国哥伦比亚大学,博士后;
2009年 中国科学院遗传与发育生物学研究所,获博士学位;
2002年 河北师范大学,获学士学位。
研究领域:
苜蓿等饲草作物生物量和品质相关性状关键基因的克隆和功能解析以及分子辅助设计育种。
博士后和客座研究生招聘信息:
本实验室常年招生博士后、客座研究生和实习生,欢迎优秀科研青年加入。
发表论文:
1.Meng Y#, Wang Z#, Wang Y, Wang C, Zhu B, Liu H, Ji W, Wen J, Chu C, Tadege M, Niu L, Lin H*. The MYB Activator WHITE PETAL1 Associates with MtTT8 and MtWD40-1 to Regulate Carotenoid-Derived Flower Pigmentation in Medicago truncatula. The Plant Cell. 2019 Nov;31(11):2751-2767.
2.Zhu B#, Li H#, Hou Y#, Zhang P, Xia X, Wang N, Wang H, Mysore KS, Wen J, Pei Y, Niu L*, Lin H*. AGAMOUS AND TERMINAL FLOWER controls floral organ identity and inflorescence development in Medicago truncatula. Journal of Integrative Plant Biology. 2019 Aug;61(8):917-923.
3.Meng Y#, Liu H#, Wang H#, Liu Y, Zhu B, Wang Z, Hou Y, Zhang P, Wen J, Yang H, Mysore KS, Chen J, Tadege M, Niu L*, Lin H*. HEADLESS, a WUSCHEL homolog, uncovers novel aspects of shoot meristem regulation and leaf blade development in Medicago truncatula. J Exp Bot. 2019 Jan 1;70(1):149-163.
4.Zhu B#, Li H#, Wen J, Mysore KS, Wang X, Pei Y, Niu L*, Lin H*. Functional specialization of duplicated AGAMOUS homologs in regulating floral organ development of Medicago truncatula. Frontiers in Plant Science. 2018 Jul 31;9:854.
5.Zhang SR, Wang H, Wang Z, Ren Y, Niu L, Liu J*, Liu B*. Photoperiodism dynamics during the domestication and improvement of soybean. SCIENCE CHINA Life Sciences. 2017 Dec;60(12):1416-1427.
6.Wang H#, Niu L#, Fu C#, Meng Y, Sang D, Yin P, Wu J, Tang Y, Lu T, Wang ZY, Tadege M*, Lin H*. Overexpression of the WOX gene STENOFOLIA improves biomass yield and sugar release in transgenic grasses and display altered cytokinin homeostasis. PLoS Genetics. 2017 Mar 6;13(3):e1006649.
7.Meng Y, Hou Y, Wang H, Ji R, Liu B, Wen J, Niu L*, Lin H*. Targeted mutagenesis by CRISPR/Cas9 system in the model legume Medicago truncatula. Plant Cell Reports. 2017 Feb;36(2):371-374.
8.Liu H, Meng Y, Niu L, Lin H*. Genome editing technology and its application in forage legumes. Sheng Wu Gong Cheng Xue Bao. 2017, 33(10): 1733–1743.
9.Niu L#, Fu C#, Lin H#, Wolabu TW, Wu Y, Wang ZY, Million T*. Control of floral transition in the bioenergy crop switchgrass. Plant, Cell & Environment. 2016 Oct;39(10):2158-71.
10.Niu L#, Lin H#, Zhang F, Wolabu TW, Li G, Tang Y, Wen J, Ratet P, Mysore KS, Tadege M*. LOOSE FLOWER, a WUSCHEL-like Homeobox gene, is required for lateral fusion of floral organs in Medicago truncatula. Plant Journal. 2015 Feb;81(3):480-92.
11.Lin H, Niu L, Tadege M*. STENOFOLIA acts as a repressor in regulating leaf blade outgrowth. Plant Signaling & Behavior. 2013, 8, e24464.
12.Lin H#, Niu L#, McHale NA, Ohme-Takagi M, Mysore KS, Tadege M*. Evolutionarily conserved repressive activity of WOX proteins mediates leaf blade outgrowth and floral organ development in plants. Proc Natl Acad Sci U S A. 2013 Jan; 2; 110(1):366-71.
13.Niu L#, Lu F#, Zhao T#, Liu C, Cao X*. The enzymatic activity of Arabidopsis protein arginine methyltransferase 10 is essential for flowering time regulation. Protein Cell. 2012 Jun; 3(6):450-9.
14.Tadege M*, Lin H, Niu L, Mysore KS. Control of dicot leaf blade expansion by a WOX gene, STF. Plant Signaling & Behavior. 2011, 6, 1861-1864.
15.Tadege M*, Lin H, Bedair M, Berbel A, Wen J, Rojas CM, Niu L, Tang Y, Sumner L, Ratet P, McHale NA, Madueno F, Mysore KS. STENOFOLIA regulates blade outgrowth and leaf vascular patterning in Medicago truncatula and Nicotiana sylvestris. The Plant Cell. 2011 Jun; 23: 2125-42.
16.Reddy BD, Wang Y, Niu L, Higuchi EC, Marguerat SB, Bahler J, Smith GR, Jia S*. Elimination of a specific histone H3K14 acetyltransferase complex bypasses the RNAi pathway to regulate pericentric heterochromatin functions. Genes & Development. 2011 Feb; 1; 25(3):214-9.
17.Niu L#, Zhang Y#, Pei Y, Liu C, Cao X*. Redundant requirement for a pair of protein arginine methyltransferase 4 homologs for the proper regulation of Arabidopsis flowering time. Plant Physiology. 2008 Sep; 148(1): 490-503.
18.Niu L#, Lu F#, Pei Y, Liu C, Cao X*. Regulation of flowering time by a protein arginine methyltransferase AtPRMT10. EMBO Report. 2007 Dec; 8(12):1190-5.
19.Pei Y#, Niu L#, Lu F#, Liu C#, Zhai J, Kong X, Cao X*. Mutations in the Type II protein arginine methyltransferase AtPRMT5 result in pleiotropic developmental defects in Arabidopsis thaliana. Plant Physiology. 2007 Aug; 144(4):1913-23.
20.Yan D#, Zhang Y#, Niu L, Yuan Y, Cao X*. Identification and characterization of two closely related histone H4 arginine 3 methyltransferases in Arabidopsis thaliana. Biochemical Journal. 2007 Nov; 408(1):113-21.
21.Deng W#, Liu C#, Pei Y, Deng X, Niu L, Cao X*. Involvement of the histone acetyltransferase AtHAC1 in the regulation of flowering time via repression of FLOWERING LOCUS C in Arabidopsis. Plant Physiology. 2007 Apr; 143(4):1660-8.